Want 20% off Microblading treatments this National Brow Day? Hurry! Get it before it ends!
Happy National Brow Day everybody! Don't you just love that we have an entire day dedicated to all things brows?
To celebrate the occasion, I wanted to bring my clients a special 20% discount off all initial Microblading treatments with my highly skilled Elite Team! But you'll need to hurry if you want to take advantage of it – the discount expires at 7pm tonight!
Who are the Elite Team?
My Elite Team are a carefully selected team of permanent makeup and microblading artists handpicked by me. They are all experts in the industry and are highly sought after and trusted. They work alongside me to deliver my goal: to create and deliver the gift of confidence.
It's always been important to me that my clients receive the same high-level of service and care no matter whether they have their treatment with me or my Elite Team. Having this incredibly gifted collective of artists alongside me has allowed me to empower women and men across the UK by harnessing the amazing power of permanent makeup.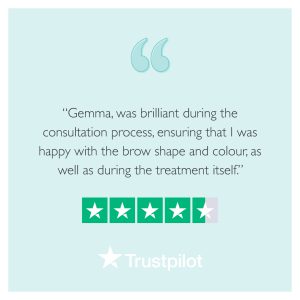 Where can I visit the Elite Team for my treatment?
My Elite Team work across all three of my clinics in the UK to deliver permanent makeup treatments in Cheshire, London and Yorkshire. My Clinics Team will be able to recommend the closest clinic for you.
I want to treat myself! How can I get the discount?
If you'd like to secure a 20% discount, please contact my lovely team now on 01977 655 106, or start a Live Chat below to arrange a call back.
My friendly Client Services team will be on hand until 7pm tonight to answer any questions that you might have and guide you towards the best member of my Elite Team to suit your specific needs.
Give your brows the wow factor this National Brow Day – you deserve it!
Karen x
The fine details
The treatments will be carried out at my clinics in London, Cheshire and Yorkshire.
This offer is only available on initial treatments booked on 02/10/19 for the month of 10/19.
Full T&Cs here https://www.karenbetts.com/promo-tcs/>